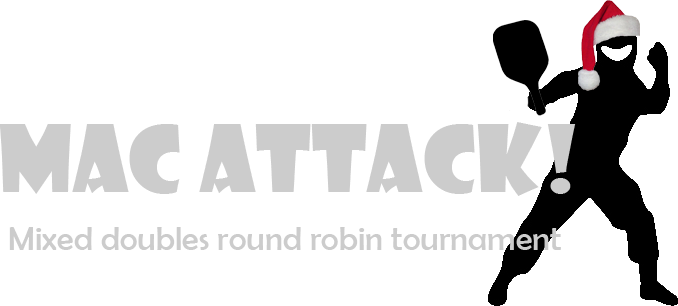 Friday, December 27th, 2019
NEXT YEAR: Saturday, January 2nd, 2021 (tentative)
8.0 / 9.0 / 10.0+
Location: The Church of Jesus Christ of Latter-day Saints, 1645 NW Baker Creek Road, McMinnville, OR
Format: Round robin, one game to 15 (win by 2, capped at 18), then top two teams play best 2 out of 3 games to 11 to determine gold and silver. Bronze also awarded. Round robin standings determined by win-loss record, then (to break a tie) head-to-head results, then point differential.
Combined team ratings: Individual player ratings (two-digit UTPR mixed doubles) are added together and rounded up to determine the team rating.
# of courts: 3
Ball: White Jugs
Maximum # of teams: 6 per bracket
Cost: Free! (Donations accepted to help cover cost of pizza and awards.)
Food: Potluck, plus hot pizza at 12:30 and 4:00. Plates and utensils provided.
Registration deadline: December 20th – if there are still openings after that, registered players may sign up for additional brackets until all spots are filled.

---
8.0 bracket (10:00 a.m.)
1.  Dave Britt/Jenny Kern
2.  Benny Ward/Cynthia King
3.  John Vanderwall/Linda Neal
4.  Bob Tucker/Karen Vanderwall
5.  Walt Stahlnecker/Diane Olson
6.  Justin Bowes/Linda Scherf
WAIT LIST:
1.  Tom Barton/Joy Cheong
---
9.0 bracket (approximately 1:30 p.m.)
1.  Darren Tillson/Michelle Annett
2.  Jesse Compton/Marin Mattias
3.  Tim Gardner/Norma Rodriguez
4.  Jeff Robison/Nicole Cooper
5.  Marty Purdy/Val Patterson
6.  Derek Plummer/Carrie Nielsen
---
10.0+ bracket (approximately 5:00 p.m.)
1.  Enrique Ruiz/Anne Britt
2.  Will Gardner/Kelsey White
3.
4.
5.
6.
---
Players needing a partner:
---
2019 Winners
8.0 –
Gold: Benny Ward/Cynthia King
Silver: Bob Tucker/Karen Vanderwall
Bronze: Justin Bowes/Linda Scherf
9.0 –
Gold: Tim Gardner/Norma Rodriguez
Silver: Jesse Compton/Marin Mattias
Bronze: Darren Tillson/Michelle Annett
10.0 –
Gold: Enrique Ruiz/Anne Britt
Silver: Will Gardner/Kelsey White
2018 Winners
8.0 –
Gold: Ana Correia-Sanchez/Marty Purdy
Silver: Linda Scherf/Ted Yuen
Bronze: Raquel Davis/Dana Davis
9.0 –
Gold: Petra Vernon/Khanh Tran
Silver: Norma Rodriguez/Tim Gardner
Bronze: Julie Farrenkopf/Darren Tillson
10.0 –
Gold: Yang Lu/Wes Gabrielsen
Silver: Erika Turney/Enrique Ruiz
Bronze: Anne Britt/Will Gardner
2017 Winners
8.0 –
Gold: Liz Whelan/Derek Plummer
Silver: Feng Grove/Barry Berger
Bronze: Jean Madden/Wes Gabrielsen
9.0 –
Gold: Yang Lu/Khanh Tran
Silver: Norma Rodriguez/Tim Gardner
Bronze: Julie Farrenkopf/Darren Tillson
10.0 –
Gold: Bonnie Williams/Wes Gabrielsen
Silver: Kelsey Stulbarg/Tony Tollenaar
Bronze: Beth Bernardo/Shane Denning
2016 Winners
8.0 –
Gold: Heidi Johnson/Brian Eldridge
Silver: Carrie Nielsen/Doug Kern
Bronze: Anne Smith/Barry Berger
9.0 –
Gold: Michelle Annett/Darren Tillson
Silver: Lynn Rasmussen/Jeff Robison
Bronze: Jenny Kern/Jon Jon Rice
10.0 –
Gold: Anne Britt/Enrique Ruiz
Silver: Michelle Annett/Shane Denning
Bronze: Renee Newton/Tony Tollenaar
2015 Winners
8.0 –
Gold: Linda Scherf/William Gardner
Silver: Carrie Nielsen/Jeff Robison
Bronze: Danielle Orloff/Adam Blue
9.0 –
Gold: Anne Britt/Chris Kelley
Silver: Kelsey Stulbarg/Tony Meyer
Bronze: Sherri Oslie/Brendon Walters
10.0 –
Gold: Bonnie Williams/Kurtis Campbell
Silver: Anne Britt/Kaipo Amina
Bronze: Jenny Kern/Rob Davidson